One is ranked among Spain's top players. One is a member of the Michigan High School Coach's Hall of Fame. Another is a five-time regional high school coach of the year. Why do the best instructors in Northern Michigan love to teach and play at The Homestead? Keep reading to find out.
One look at the professional-level clay courts—Wow, what a view!—and you can tell: the resort takes tennis very seriously. The Homestead has made teaching the game of tennis a top priority from Day One. That passion for the game can be seen today in the resort's high-level programing, the weekly exhibition matches and the credentials of the coaches who love to work and play here.
Last month on this blog, we covered all the new summer options for guests and residents looking to learn the great game of tennis. (Click here to check out the full story.) Now we'd like to introduce you to our coaches:
Fernando Belmar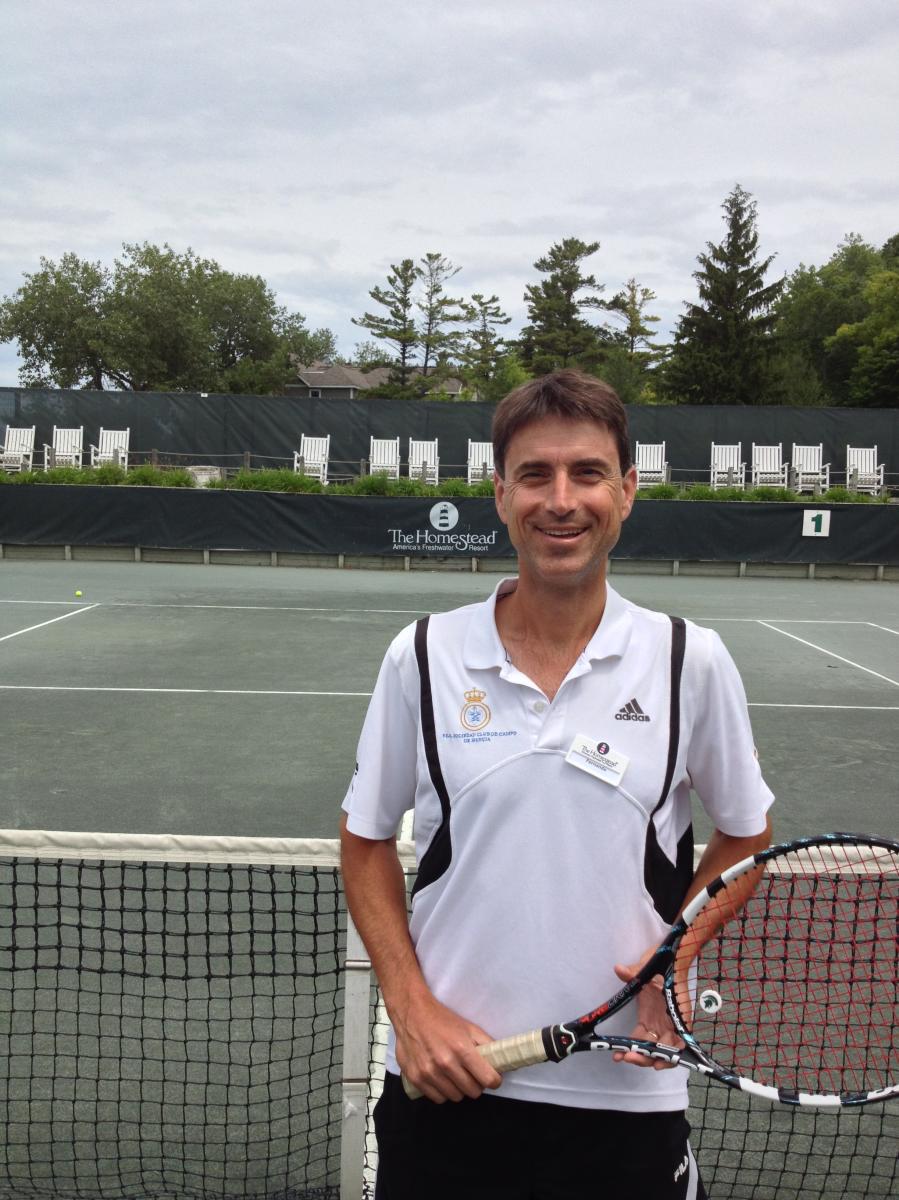 One of the hottest players in the International Tennis Federation (where he's ranked No. 30), Fernando Belmar is one of Spain's Top 4 players and is still a member of the Spanish National Team. After some stellar success while attending high school in Florida (where he was High School State Champion), Fernando ventured north on a full athletic scholarship at Michigan State University. An ITF Spanish National Champion (+50) who is ranked among the world's top 600 players, Fernando divides his time between Spain and Northern Michigan where he's passionate about teaching, coaching and spreading the word about The Homestead's great summer tennis program.
"I have been a tennis pro at The Homestead for nine summers," he says. "I love being in contact with people, making new friends with owners and guests and maintaining long term relationships with many of them. The tennis experience at The Homestead is one of a kind—possibly one of the most beautiful tennis areas in the world. The surroundings are breathtaking, and being able to play on the outstanding clay courts elevates tennis to another level. Besides my love for the area and its people and teaching at the Homestead, I love playing our fun and high-level exhibition matches on Saturdays. It´s definitely the highlight of my week every weekend in the summer."
James Fowler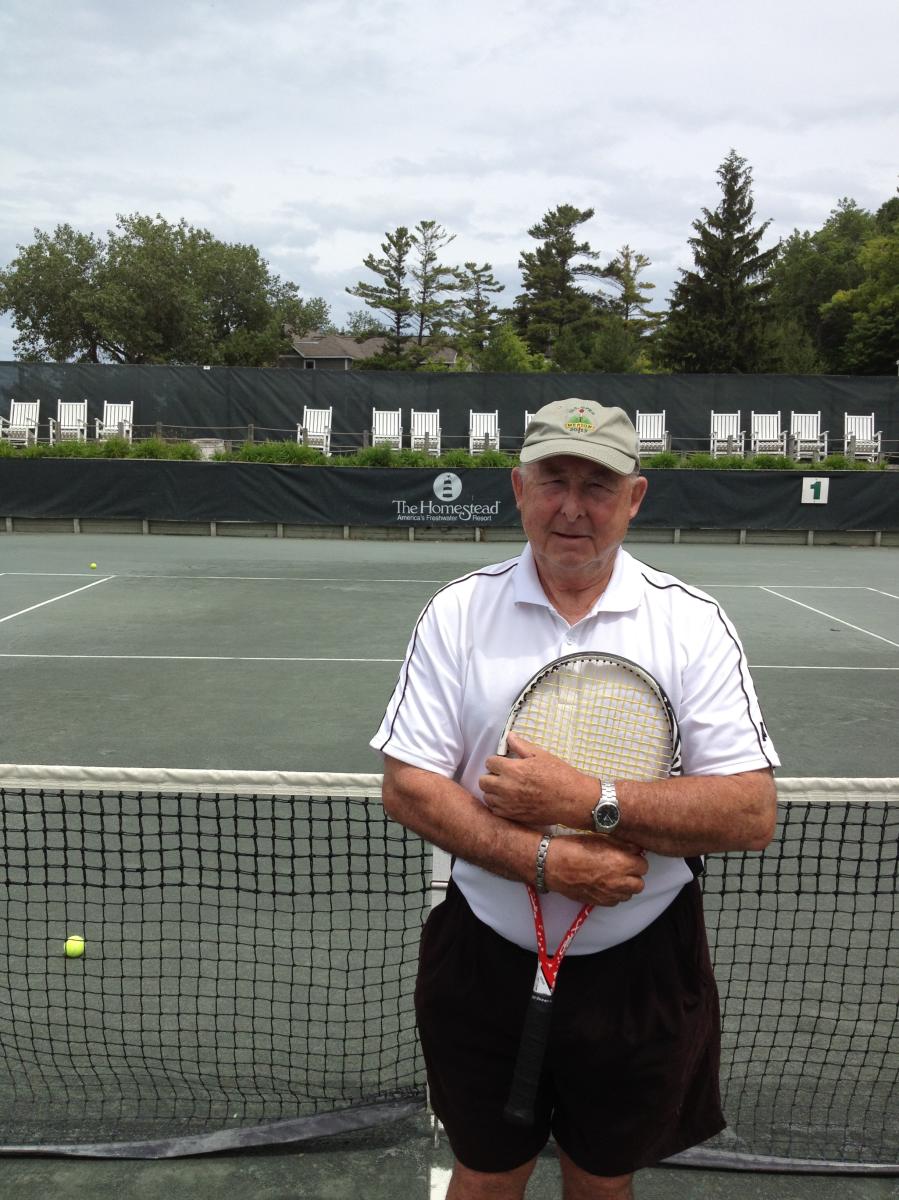 A 35-year member of the United States Professional Tennis Association, Jim Fowler spent a great portion of his life helping tennis thrive in Flint, Michigan. A past owner of the Genesee Valley Indoor Tennis Club in Flint, Jim coached high school tennis for over 20 years before he was inducted into the Michigan High School Coaches Association Hall of Fame in 2013. (Check out MLive's story about Jim by clicking here.)
"I've been teaching and coaching tennis at The Homestead for over 25 years," he says. "There's so many great things about the tennis program the resort has put together: the highly talented staff with many years of teaching experience; the clay courts that are easy to learn on and easy of the body; and the wonderful scenery—not many clubs look out on such a wonderful scenery as Lake Michigan and the Manitou Islands."    
Tim Sutherland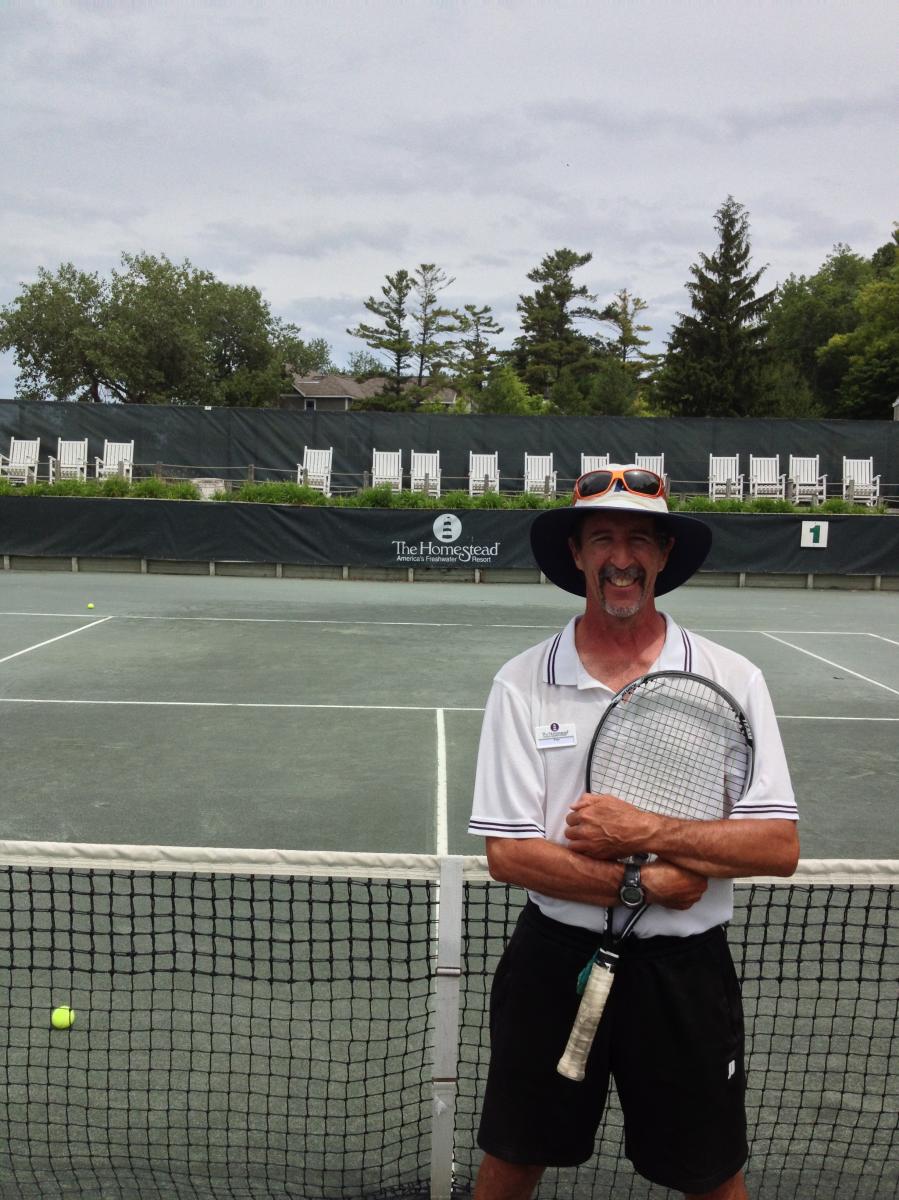 Teaching the joy of tennis has been a lifetime love of Leelanau's legendary and beloved tennis coach, Tim Sutherland. A beloved local coach for over 40 years, Tim is a five time High School Coach of the Year who was also named Great Lake Conference Coach of the year by Grand Valley State University. A pro at The Homestead for the last 25 years, Tim is also the Director of Tennis at Glen Lake Yacht Club.
In a wonderful profile of Tim last year in the Glen Arbor Sun, Tim summed up why he has dedicated his life to coaching the game he loves: "My love for teaching puts me out in a situation where I have a lot of impact on others," he said. "[The game of tennis] carries over to our relationships with adults; it carries over to out there in the world. No matter what age, we try to brighten somebody's day and bring helpfulness or joy or self-esteem. It sure makes the day better for everyone."
You can read the full Glen Arbor Sun article profiling Tim's Zen-like approach to life and teaching by clicking here.
For more information on tennis exhibitions, programs and free clinics, click here for The Homestead's dedicated tennis webpage. Tennis courts and programs are available to The Homestead guests and Beach Club Members. Call or visit Flip Flops at the Beach Club to reserve court time or register for a lesson or mixer. Call 231-334-5235.