New England may be known for its vibrant fall colors but nothing can compare to those same colors against the deep blue backdrop of Lake Michigan, sandy-colored dunes, or trees ripe with red apples. Add a quaint roadside fruit stand, a historic cemetery or an old barn, and you have something very special. This is part one of a series of blogs about color tour destinations in Leelanau County, Michigan. So, before reading anymore watch the video called Fall Color on M-22 Michigan's Most Scenic Highway.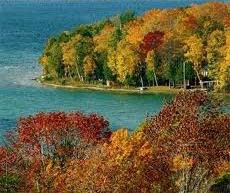 Michigan Fall Foliage Tour 1: M-22 Triangle
Explore the small lake-side towns dotted along M-22 that runs along the edge of the peninsula and shoreline. Begin your trip from Traverse City and travel north along Grand Traverse Bay toward Northport. Stop in Suttons Bay, Omena and Northport on your way to the Leelanau State Park Lighthouse at the tip of the Leelanau Peninsula. Travel south on M-22 on the western shore of the peninsula for a visit in Leland. Leland is known for Fishtown, a historic fishing village that has been preserved with a special charm. Continue south winding through the Sleeping Bear Dunes National Lakeshore and Glen Arbor, another quaint destination full of Up North character. Adventurous travelers can venture further south to the town of Empire that is nestled in between Sleeping Bear Dunes and Empire Bluff where the views are spectacular. Zip back to Traverse City via M-72. It could take several days to complete the tour if you stop in each town, but it is well worth the trip. The tour can also be done in a matter of hours depending on the number of stops you make. The M-22 Triangle Tour is available on Google Maps for your convenience.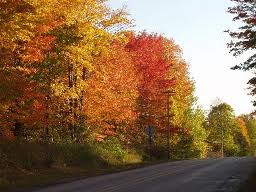 Travelers to Leelanau often gravitate to the water's edge to view the amazing color the county has to offer but the winding interior roads are just as spectacular. Open fields, old barns and farm houses, inland lakes, and hillsides awash in colorful fruit trees are some of the sights you will see. The elevations change quickly providing the traveler with a surprise on each hilltop and sharp corner. Here are a few shorter tours worth travelling: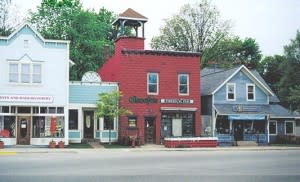 Michigan Fall Foliage Tour 2: Cedar Lake / Suttons Bay
From Traverse City, take M-22 north to Cherry Bend Road in Greilickville passing the DeYoung Natural Area. Stop for a quarter-mile hike along the Cedar Lake Trail that goes along the shoreline of Cedar Lake. The Wings of Wonder Trail is a short distance west on Strange Road if you are looking for another quick hike. Cherry Bend Road turns into Center Highway (Co. Rd. 633) heading north toward Suttons Bay. Consider stopping in the bayside town of Suttons Bay for street-side lunch or shop in unique stores along Main Street. To get back to Traverse City, take M-22 south along Grand Traverse Bay to enjoy a beautiful view of the bay and Old Mission Peninsula. Tour 2: Cedar Lake to Suttons Bay is available on Google Maps.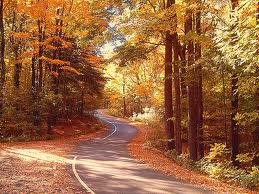 Michigan Fall Foliage Tour 3: Cedar / Glen Arbor
From Traverse City take M-72 west to Bugai Road and turn right to go north. Turn left (west) on Hoxie Road (Co. Rd. 616) to wind in and out of farms, small towns, and stunning views. Stay on Co. Rd 616 which changes names several times as it merges with other county roads. You will end up in the town of Cedar. Cedar is a good destination for lunch at a local eatery or pick up a sandwich to go. You may also consider a stop for lunch a few miles west in the town of Maple City. Continue west on Co. Rd. 616 climbing up and down some hilly terrain toward Glen Arbor. Co. Rd. 616 runs along the south end of Glen Lake and crosses a bridge at the narrows between big and little Glen Lake. You'll end up in the quiet little town of Glen Arbor with Sleeping Bear Dunes both north and south of you. For more information on the dunes area visit, Sleeping Bear Dunes Visitor's Bureau for all the latest news, events and trip planning ideas. Tour 3: Cedar to Glen Arbor is available on Google Maps.
Part 2 of our series on Michigan's fall foliage takes a view of changing colors from the air.